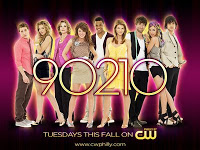 CLEAN & CLEAR is offering teens an opportunity to be a star on the CW's 90210 and appear on the West Beverly Prom episode! I kind of wish I were a teen right now. You KNOW I love a prom.
To enter, visit CWTV.COM/COUNTDOWN and upload a brief video that explains why you and your best friend deserve this experience to appear on the show and win the following:
· Appearance on the CW's 90210 West Beverly prom episode
· A 4 day, 3 night trip to Los Angeles, California to film the episode
· On-set VIP treatment including hair, make-up, and wardrobe styling
· 1 year supply of CLEAN & CLEAR®
Good luck!