Fresh and I are engaged in an abusive relationship.
It's just one of those brands that produces unbelievably phenom, yet unique beauty booty. AND their skincare, body products AND makeup are all equally impressive. The packaging is exceedingly clever, as are the product names. Case in point: their Imperial Bedroom Face Palette ($55). I find, however, their prices to be just beyond reasonable. For instance, in a frenzy of Sephoria (come on, you've experienced it too), I purchased this $22.50 lip balm only to have ridic buyer's remorse (only because of the price). But I keep coming back for more because this lip balm is SUBLIME. The brand is to beauty what Anthropologie is to fashion: "an overpriced little bitch," in the words of my friend Tamron.
The crown jewel of their suite of products? Their fragrances. I know. I KNOW. I rarely delve into the fragrance realm because I am indeed involved in a near-monogamous relationship with Burberry Classic. But lately, I've been succumbing to the allure of a side dish manufactured by Fresh: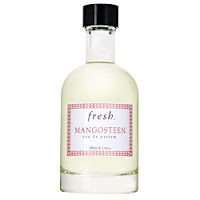 Mangosteen Eau de Parfum ($75)
Fresh's fragrances absolutely slay me. This is my THIRD FFA (Fresh Fragrance Addiction). My other favorites are Lemon Sugar and Fig Apricot. I love that the name of this one seems to imply that the main notes of this scent are derived from some sort of Jewish fruit. I laugh out loud every time I see the bottle. It delights me to no end. I envision scenarios of the fruit's long daily phone calls with its mother, a general lack of athleticism, and innate pressure to become a doctor or a lawyer.
Anywho, mangosteen is a fragrant fruit native to Southeast Asia and is often referred to as the "Queen of all Fruit" because it contains a high concentration of antioxidants. Etymologically, it seems to be similar to the mango, although botanically, it bears no relation. This perfume focuses on the juiciest part of the mangosteen: the white pulp in the heart. Also blended in are Italian lemon, bergamot, citrus notes, sheer flowers, peach and soft woods.
Here's what I lurve: even when used in excess, it's still subtle. Spritzing away with reckless abandon will not leave you with overwhelming PERFUME as opposed to… perfume. I'd describe it as fruity but not saccharine, mild, bright, sparkling and lively.