Nexxus Creative Director and Celeb Stylist Kevin Mancuso provided this step-by-step guide to creating the fab look you see to the left.
For your holiday party or next big soiree, don't be afraid to go for volume. Big skirts and big hair are back in a big way.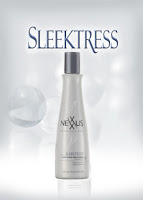 Step 1: Shampoo and condition hair with products that
will reduce frizz and tame flyaways like Nexxus Sleektress Shampoo and Nexxus Hydra Sleek Conditioner.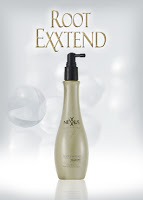 Step 2: Apply a straightening product with silicone, like Nexxus Sleek Memory, all over locks for frizz-free results. Then, mist a volume boosting product, like Nexxus Root Exxtend, directly to the roots.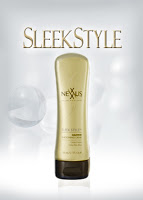 Step 3: Blow-dry hair with a large, round brush. Set top section of hair into a large roller to create volume at the crown. Use a small amount of a smoothing crème, such as Nexxus Sleek Style, and a flat iron on the rest of hair to maximize smoothness and control flyaways. Then, secure side sections in back of head with bobby pins.
Step 4: Remove roller, and divide the top section of hair into two pieces. Allow back piece to fall over pinned sides, and back comb the front piece to add volume. Gently pull front piece back to form a structured poof,
and secure with bobby pins. Use finger tips to smooth out style, and finish with a light-hold hairspray, such as Nexxus Comb Thru.
Step 5: Gently pull the bottom section of hair to one side, and secure into a low, side ponytail with an elastic. Help tame flyaways by lightly misting hair with a medium hold hairspray.
Says Kevin, "Ponytails are an elegant style trick, no matter the age. It's one easy step,
yet looks very polished."