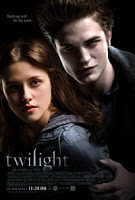 MAC Cosmetics provided yours truly with this phenom Q&A with Jeanne Van Phue, Head Makeup Artist for Twilight, the movie based on the eponymous book, which is scheduled to open on Friday, November 21st. I already have plans to see the movie on that date and am about halfway through the book. It's very "in keeping" with my vampire obsession.
Q: What was the process for creating the various characters' looks?
A: Katherine Hardwicke, the director, and I have previously worked together on a movie called "Lords of Dogtown," so we know each other very well. I began by preparing sketches of my vision, keeping in mind the descriptions Stephanie Myers (Twilight's Author) set forth in the books.
Bella's (Kristen Stewart's character) description in the novel is very pale and extremely beautiful with large chocolate brown eyes, so she wore colored lenses every day. I also pictured her as a natural beauty, which is exactly what Kristen is. I used a light hand while applying all neutral colors to make her look as though she had no makeup on.
Edward's (Robert Pattinson's character) description in the novel is impossibly handsome almost god-like. His skin is marble-pale, hard as stone and ice cold, but perfect and flawless. Edwards' eyes are described as topaz colored when he is normal and black like onyx, when hungry.
Q: Were there any changes to the looks of the characters that weren't planned?
A: At the beginning, Katherine Hardwicke visualized Edward with long hair, yet after studying his face and jaw line in the makeup test, the decision was made to go with short hair to accentuate his amazing jaw line.
Q: What was the overall look of the makeup in this movie?
A: All the vampires had to be pale, but I didn't want them to look to ghoulish, somewhere between Sweeney Todd and Interview with the Vampire. The choice was made for a denser, more opaque look for the supporting vampires and a lighter look for the leading man.
The challenge was they still had to look beautiful and handsome. The key was striking the delicate shading balance. We had two weeks of makeup test. This is the time for a makeup artist to unleash their imagination. During the testing Katherine let me know when I was on the mark. Katherine has a fabulous eye for detail and everything I did had to be approved by her.
Q: Were there any other challenges you encountered while working on location in Portland, Oregon?
A: The rain was a huge challenge. We were outside, and it rained the entire time we were there. Most of the shots were exterior; trying to fix makeup in the rain with wet faces and wet brushes was difficult. In the end, I must say I loved working on this movie, it challenged my creativity as never before. The cast was such a great group of talented young actors.

Q: What were your non-makeup related responsibilities in terms of creating this look?
A: Another one of my jobs was too find a contact lens specialist. So I called upon the expertise of Cristina Patterson Ceret FX lens/painter from Professional VisionCare.
Q: What M·A·C products did you use on the film Twilight?
A: The M.A.C products I used on this film were eye shadows and powder for our principles. We had several other characters and day players for whom I used M.A.C. foundations, lipsticks and blushes.

Q: How long have you used M·A·C products?
A: In 30 years as a makeup artist in my career and over 50 movies, M·A·C products have played an integral part in my work. I have probably used all of them at one time or another. I choose the cosmetics based on their skin tone and whether they are oily or dry. It also depends on how the product reacts to their particular skin type.
M·A·C Makeup used on Bella played by Kristen Stewart
Blot Powder/Pressed in Light ($21)
Eye Shadow on Blanc Type, Flute and Wedge ($14.50)
M·A·C Makeup used on Edward played by Robert Pattinson
Blot Powder/Pressed in Light ($21)
Image credit: wikipedia.org