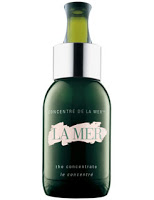 I'm so looking forward to this country's new administration and was very impressed by Barack Obama's humble victory speech and John McCain's classy concession speech. I'm ready for change, and I'm ready to meet the First Puppy! Last night was historic and I'm so happy and proud for America.
But you know what else is historic? This vile acne scar which established residency on my right cheek for YEARS. I also have a new, irritating burn which is becoming a scar from last week when I burned my upper arm with a curling iron as I was Betty Drapering out for Halloween. But luckily for me, I recently found out about La Mer The Concentrate ($350), which was designed for fragile, post-trauma skin on the face and body.
The product is a favorite of Emily Katz, makeup artist for LOST. As she told me in a recent interview, "La Mer is one of the companies whose products I adore. The Concentrate has healed some scars that no one thought would disappear. It's truly fantastic." Says Emily, "We use the hand cream, eye balms and moisturizer as well." Stay tuned for the full interview! Emily is so generously (it's a Katz thing!) providing me answers to my extensive list of questions on-location from the set in Oahu, Hawaii! The hilarious Parisjasmal suggested that I ask whether dead sexy Matthew Fox has soft skin, because he does when she caresses him… in her dreams. P, I feel the SAME way.
Anywho, back to The Concentrate: after three weeks of nightly use, my acne scar has significantly faded. It's not gone, but it's on its way out. Even my newer curling iron injury is looking much better.
The secret is in the cocktail of the most precious and effective marine and plant extracts working in synergy with the Miracle Broth™. This blend helps damaged skin renew and rebuild its appearance. Special barrier repair ingredients act as lipid "cellular cement" to help strengthen vulnerable skin. The Miracle Broth™, Lime Tea, marine and plant extracts are suspended together within a breathable barrier to deliver their healing properties.
When used as a primer, this matte, silky serum allows my makeup to positively glide on beautifully, and also gives my skin a gorge, glowy radiance. The only bad news is that it IS egregiously expensive. And for that reason, I save it just for scars and burns. But if I had a sugar daddy, you'd best believe that making it my daily primer would be one of the MAJAH changes I'd make in my lifestyle.
Available at cremedelamer.com.