So everyone knows that for gals, Halloween is a glorified excuse to rock your most scandalous clothing. I myself am planning a smoldering slutty Betty Draper ensemble. It's going to be to DIE. Since we've all come to terms with the fact that All Hallow's Eve is simply the Slut Olympics, I need to educate you on your faux lash options (a.k.a. steroids for the slut olympics.) The fun part? They'll never disqualify you from making it to the championship round.
Laura Mercier Corner Faux Lashes ($18) These add a hint of volume, a ridic amount of length, and tons of sex appeal.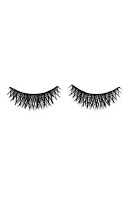 Shu Uemura False Eyelashes in Luxe ($20) When it comes to lashes… Shu knows best.
Revlon Lash Flares are self-adhesive (no glue! YAY!) and can be applied only to the very corners for a more natural look. Good for faux lash virgins. P.S. There's no virtue in that, so dive in and get it over with.
MAC 37 Lashes ($20) Twiggy.com. You're logging on.
What are you dressing as for Halloween? Start at the beginning, end at the end. Go.