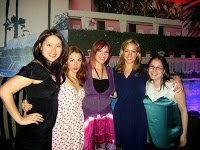 Guys. This month it's like I'm living my own
8 Going on 28
mini series. I mean, I can't believe my lifestyle. Within three weeks I attended an
NKOTB
(stay tuned for my concert review after I see them again on October 27!) concert and then a surprise performance by
the
TIFFANY
at the 30th anniversary party tonight for
Aussie
! Will next week bring an engraved invitation to sit at my 4th grade class's "popular" table? Who can guess? Not me, dolls.
The title of my yet-to-be-written memoir will be Everything You Ever Wanted in Your Lifestyle WILL Happen, but WAY After You Thought it Would. It's a toss-up between that and What Can I Wear That's Appropriate for my Conservative Finance Job AND for Attending the 30th Anniversary Party for Aussie Hair Products at Bungalow 8? The answer to the latter, BTW, is NOTHING. Not one thing. I settled on the dress you see pictured only to get mildly harassed for its toeing-the-line length (an inch or two above the knee) by my coworker, B.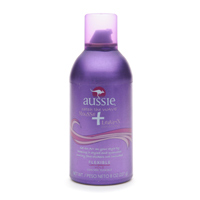 So this party was it and then some. In addition to the private Tiffany concert (seriously, it was about 30-40 people – I DANCED like a maniac WHILE she sang Saw Him Standing There, along with the other concert patrons), we took a phenom trip down Aussie product memory lane and listened to stylist Sarah Potempa share tips. The nostalgia! In the 80s and 90s, I used to spend ALL of my allowance at the now defunct Drug Emporium on Sprunch Spray, 3 Minute Miracle and Hair Salad. Remember the delish grape scent of Sprunch Spray? I totally loved it. My locks were fraught with it, as was my bathroom counter and floor, much to my brother's chagrin. Aussie's new collection includes Catch the Wave Mousse + Leave In Conditioner ($4! It doesn't get more recession-friendly than that), the perfect pre-blowout amplifier for voloisturizing (achieving volume + moisturizing) your hair.
Tiffany sang I Think we're Alone Now, Could've Been, When I Saw Him Standing There (which I listened to on a LOOP in the 80s), and a bunch of fun new songs. It was DIVINE. I remember being so very jealous in 1988 when my best friend at the time, Rachel, got to attend the NKOTB concert and bragged that Tiffany (who opened for NKOTB) touched her hand for years. My inner eight-year old DIED of excitement when I got to meet her. We did the "hand dance" (see vintage Tiffany video below) and everything. It was pretty much everything I'd thought it be and more.
Pictured above are Carolyn, Marina, TIFFANY and me. Thanks to Carolyn for the pic and to Aussie for the super fab event! Here's to many more years of silky smoothness with the purple roo!