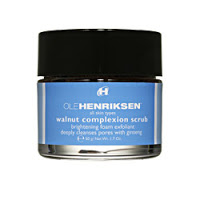 Guys. I found a holy grail scrub that's so good, I emerged from the bathroom screaming to my roommate to feel my face immediately. AND this was even during the presidential debate. (Sometimes I like to use beauty products whilst watch TV. ) I immediately insisted my roommate Carrie try it and she also pronounced it phenom.
Anyway, what scrub am I loving? Ole Henriksen Walnut Complexion Scrub ($24) It's AMAZING. It requires capital letters. I was skeptical initially. Let me tell you why. The product's subtitle indicates that it's a brightening FOAM exfoliant that deeply cleanses pores with ginseng.
Longtime readers know that I usually don't appreciate a two-in-one product (shampoo and conditioner in one is anathema to me) unless it's a double-ended type deal, like a tooth whitener on one side and a gloss on the other, for example. When a formula is intended to do two separate things, I get nerv. So the situation is that this scrub is foaming… I didn't like the sound of that. In my world, that implies that this item both cleans and scrubs away dead skin cells. I like when a product only does one of the two because I feel like its effectiveness in both capacities is comprimised when it's expected to deliver too much.
But I was wrong, dolls. When I'm wrong, I say I'm wrong, just like Dr. Houseman of Dirty Dancing fame. Use this stuff on dry, clean skin (though it indicates in the directions to use it on damp skin – I didn't follow the instructions), massage into skin for a minute, then remove with a warm, wet washcloth. Your skin will feel like BUTTER. Seriously. I keep feeling UP my face. The scrub yields SUPER smooth, covetable skin. It feels like I had a facial. And it smells like wet walnuts that go on a delish ice cream sundae. Yum, yum, yum.
According to the product description, "nothing heightens the skin's natural metabolic processes better than this densely textured, smooth gliding, and terrifically energizing face scrub." When I told Carrie, her answer said it all: "It FEELS like it's heightening my skin's natural metabolic processes."
Try it out for yourself!