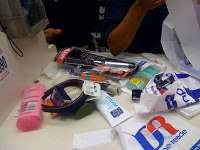 Hey gals!
I caught up with the gorge Meghan Asha (seriously, a Duane Reade shopper commented that she should be a model – and I agree!) on Friday to recommend some beauty finds on the cheap. She video'd the experience, so stay tuned for that to be posted on her site.
A quick run-through of most of the products I recommended Meghan try:
David Babaii for WildAid Hydrating Shampoo and Conditioner
L'Oreal Infallible Lip Colour
L'Oreal Carbon Black Telescopic Mascara
L'Oreal Vive Pro Nutri Gloss Shampoo and Conditioner
Goody Headbands
Lady Mitchum Deodorant in Shower Clean
Cover Girl Lash Blast Mascara (Waterproof)
Prestige Eye Liner
Clean & Clear Soft In-Shower Facial (STEAM)
Sally Hanson SALON Nail Lacquer
Sally Hanson Color Quick Fast Dry Nail Color Pen
Maybelline XL Volume Seduction Lip Gloss
Olay Quench Body Lotion
Conair 1.25″ Curling Iron
In other news, my friend Lauren and I bought tickets for New Kids on the Block concert at Madison Square Garden on October 27th. I can't even WAIT. Get ready for yet another NKOTB concert review. Missed the first? Read it here.