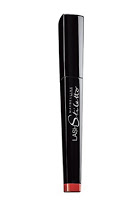 Maybelline New York's newest iteration for lashes is Lash Stiletto Ultimate Length Mascara. The brand is looking to do for lashes what stilettos do for legs. It purports to impart provacative length and black-patent shine.
*The mascara boasts an exclusive Grip & Extend brush which grabs each lash to coat from every angle, separating, and elongating.
*The elastic formula stretches lashes to the extreme with every stroke.
*The patented formula with Pro-Vitamin B5 conditions and smooths, giving lashes ultimate glossiness.
I tried out my sample today, dolls and I am deeply impressed. First of all, the tube is just too too. It's the spitting image of a sexy stiletto. Its long, skinny brush is perfect for curling and elongating the tops of lashes (CRUCIAL in my world). And the formula is not too thick, yet not too thin – it encircles, darkens, and stretches out lashes in one coat. It's true that in the lash department, I am "born with it." My lashes are naturally long. But, this mascara blackens the hell out of them and increases the length to drag queen status. And for that reason, I have to declare that not maybe, but definitely "it's Maybelline."
TV ads will air at the end of January. Lash Stiletto will sell at that time for a recession-friendly $8.95 and will be available in three shades: Very Black, Soft Black and Brownish Black.