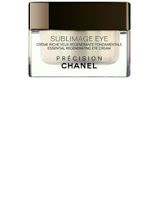 So most of the time, I fret about my combination-sometimes-acne-prone skin. But, as I've mentioned umpteen times before, I have my ten-year high school reunion coming up in November and I'm currently in my late twenties (though I still act like I'm 17), so I'm feeling the pressure to up the anti-aging skincare ante. You know? As in, I don't HAVE wrinkles, but I also don't WANT any wrinkles. And all this anti-acne stuff I've been using is great… but is it doing anything to ensure I preserve my youth? No, it's not. I've been testing out several heavier-duty moisturizers in my research and while many are good, one FAR exceeded my expectations AND isn't causing breakouts. What is it? Well, I realize that this isn't a good week (nor was last week) economically for me to be recommending CHANEL, but alas, I'd be remiss if I didn't share what is making my skin feel like buttah.
My fave "all growns up" (in the words of Trent Walker – see legendary Swingers clip below) moisturizering combo is CHANEL Sublimage Essential Regenerating Eye Cream ($175, pictured, above) and Essential Regenerating Cream ($350, pictured, left). My face feels hydrated, smooth, refreshed and DIFFERENT after using the combo. I recognize that that is a LOT of dollies to drop on skincare, but here's one thing to remember: if your skin is the slightest bit oily, you need only a pea-sized amount of the cream, which you should emulsify between your palms before applying to the face. You can use an even tinier amount for the eye cream and dab it onto the eye area. Both jars will last at least six months to a year if you're using that amount twice a day. Both products are made with ingredients derived from one unique plant-the Vanilla Planifolia-found in the far reaches of Madagascar. A specific patent-pending polyfractioning technique created by CHANEL Research results in powerful anti-aging: wrinkles, loss of firmness, dehydration, lack of radiance and inconsistency in pigmentation are pinpointed at once for utter regeneration.
I find that when you make sure to put your hair up in a bun on top of your head at night, out of your face, you won't break out. A couple weeks ago during Fashion Week, Dermalogica Skincare expert Hannah shared that little tip with me and it's made all the difference in my lifestyle. Especially if you use a lot of products on your hair (like uh, moi), if you let your hair swirl around your face at night, you're bound to get side of the cheek zits… which is exactly what I was getting until a couple of weeks ago. A Pebbles Flintstone-type updo isn't exactly the most alluring 'do for your boyfriend to view… but he (and you) will appreciate the clearer skin that will ensue. I'm a POET.