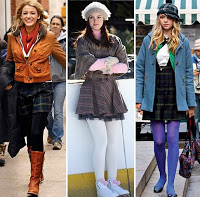 Are you beyond excited for the Gossip Girl premiere in T minus 1.5 hours? I sure am! In honor of the phenom hosiery on the show (tights in every color!) I thought I'd recommend my fave tights brand of late:
Spanx Tight End Tights in Heather Charcoal ($26) are my at-work choice, where it's simply not that kind of party where I can show up in bright GG colors. These little numbers slim you down VISIBLY. I'm looking forward to rocking these in crisp weather with some flat boots. Spanx's new fall textures and colors are below:
* New fall textures: Floral Cable, Picket, Paisley, Chevron, Diamond, Fishnet, Birdseye, & Geo Stripe
* New hot hues: Heather Bittersweet, Heather Charcoal, Bittersweet, Charcoal, Midnight, Ivory, & Wine (all colors available in opaques too)
Incidentally, Spanx ALSO makes phenom bras. I tried out their Bra-llelujah in nude ($62) and am deeply impressed, gals. Say buh-bye to backfat – it closes in the front and its back strap (and shoulder straps, for that matter) are comprised entirely of hosiery material so there's no flesh-digging hardware or straps. It lays perfectly smoothly against your bod. This is a must-buy in several colors. I LURVE it.