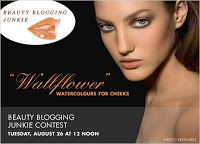 Gals, I'm delighted to announce that I've partnered with Three Custom Color to give you dolls the opportunity to win one of 25 Watercolours for Cheeks in Wallflower, the brand's new dewy shimmering beige shade.
The name (wallflower, obv) is adorable, but be warned, upon sporting this lurvely shade, a wallflower you won't be. My sample has established PERMANENT residency in my makeup bag. It's The Business, girls. I touch on a bit with my fingertips to my cheeks and nose and instantly look sunkissed. Since it's creme bronzer, I know it won't age me one minute faster than necessary (I'm not into powder bronzers for this reason).
The contest begins today, August 26th at noon and ends on September 2nd. Click here for more info and to enter. Good luck!