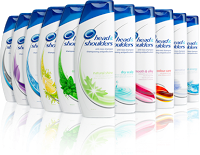 Dolls, the title refers to Head & Shoulders Ambassador Ben Skervin's hilarious comment about maintaining hair's health. Per Ben, the goal should be having healthy hair that doesn't require a lot of work to hide flaws, because it should be looking glosstrous and healthy to begin with. As in, so healthy, that you want to shout from rooftops, "my hair looks MAJOR right now." He shared these tips with us to take hair from spring/summer to fall/winter:

1. Repair bleached hair with a deep conditioner
2. Cut dry ends
3. Choose rich or dark colors for winter – vegetable rinses are a fab way to achieve the look
4. Cold winter air wreaks havoc – another reason to deep condition regularly once the air turns crisp
5. Use steam rollers, a less damaging method of heat to curl hair
He also discussed working the current hair trends: relaxed updos, waves, and classic ponytails with a twist (volume at the crown). The ponytail is a great way to avoid looking too over-the-top when you want to rock more dramatic makeup, i.e., when you want to "bust the red lip tonight."
One of Procter & Gamble's resident scientists educated us on the facts about dandruff. She told us that all of us have 100,000 hairs on average. Blondes tend to have about 140,000 (yay, blondes!), brunettes about 155,000, and redheads about 85.000. When your scalp isn't hydrating itself is when flakes happen. The three factors for 'druff:
1. Sebum
2. Malassezia
3. Individual Susceptibility

Malasezzia is on all scalps; it lives in the hair folicle. Its species differ as much as humans differ from rats. Wild, n'est-ce pas? Its excretion/byproduct is what people may or may not react to, which leads to dandruff.
Don't you love learning something new? P&G created a proprietary form of zinc pyrithione (ZPT) to effectively maximize the coverage of the active ingredients for phenom scalp care to deal with any negative reaction. H&S eliminates 100% of visible flakes with regular use and helps control irritation and itch. When the shampoo and conditioner are used together, the ZPT is 50% more effective than just using the shampoo alone. This is one of the few times I'd advise using a shampoo/conditioner couple – usually I'm all for mixing and matching.
Head & Shoulders has an entire range of new shampoos and conditioners all at only $5 each! Check it:
Citrus Breeze for fine/oily hair
Classic Clean for deep cleansing
Dry Scalp Care for moisture
Extra Volume for body
Ocean Lift with sea mineral essence
Refres for a cool sensation/refreshment
Restoring Shine with natural plant extracts for dull hair
Sensitive Care with a hypo-allergenic formula and aloe
Smooth & Silky for dry frizzy hair
Available at food, drug and mass market retailers nationwide.