Hi, dolls!
How was your weekend? Mine was phenom, I caught up with Jamie and saw The Sisterhood of the Traveling Pants 2 (not as good as the first one, but worth it to see Blake Lively's TDF – to die for – mane). Saturday, I ended up seeing the deliciously campy Mamma Mia with my friend JoEllen after a delish brunch at 7A. Both movies included a lot of great hair. I was inspired, gals. I was inspired to kick up my own hair game quite a few notches, so I rooted through my beauty stash – mine's in several bags in my room, unfortunately, I don't have the space situations other beauty bloggers rave about like Tia Williams' beauty room or Michelle's nail polish room, but I do have goals to achieve such organized beauty space. Anyway, I chose a winning combo of Bumble and bumble Creme de Coco Masque and White Sands Porosity.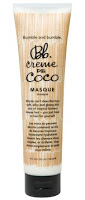 Bumble and bumble Creme de Coco Masque ($23): Dry, haystack-like strands run screaming at the sight of this vaca-scented creamy, luxe masque. It should come with the soundtrack of Cocktail, it's so beachy and fun. Apply from ears down to ends (concentrating at the bottom of hair) and leave on for 5-7 minutes while you attend to other shower chores. Fun tip: get a shower radio! I've had one for the last 10 years or so, and I have to tell you – I don't know how I lived without it. Showering with a soundtrack is so much more fun. Anywho, my hair is unbelievably soft and glosstrously hydrated post blowout. I wish I could use it more than twice a week, but alas, that's what's recommended and I'm the kind of person who is a stickler for directions. I only wish it came in a larger bottle, I go through this little tube so quickly. In fact, I wish it came in a bucket. I'd shell out for it; this masque achieves holy grail status.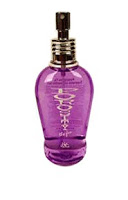 White Sands Porosity: I was so sold after reading Spoiled Pretty's rave review. This spray on "filler" is a moisture drink for hair that has become delicate from coloring, perming, and blow drying. It's designed to protect from heat tools and environmental elements. It's the brittleness antidote – fashioned as "makeup for hair," it acts as a concealer, filling in the blemishes found in each strand. File that under What Took So Long To Invent THAT. This feature instantly creates illuminating, flawless strands. If your hair is fine, I'd suggest spraying a small amount into your hand and rubbing on your ends only. The amount you apply should be in an inverse relationship to how thick and dry your hair is. Available at whitesandsproducts.com.
Another great hair tip: for Nicole Ritchie-esque sweeping bangs, roll a big fat round brush on TOP of bangs and blow dry them down with a tiny bit of kicky curl at the ends. I've been rolling the brush UNDERNEATH my bangs (as I am a volume queen), but was wondering why my bangs were never sweeping and always just looked as if they were growing out. I feel like it's so obvious, and yet, I haven't been doing it all these years. If this is news to you, do try it on out. You won't be sorry. The key to sweeping bangs is NOT volume.
xo,
Amber