MAC Lipglass in Soft & Slow ($14 – second gloss in from the right) is from their Neo Sci-Fi collection. Get on that shiz, because it's limited edish. Limited Edish items are totally the cosmetic equivalent of a vacation tryst. My friend Stephanie got hooked on this stuff when I brought it to the Bahamas . She wound up scoring her own within hours of our return to New York. The nudish pink hue is universally flattering. And because it's MAC, you know it's super-glossy and vanilla-flavored.
Clean & Clear SOFT In-Shower Facial (STEAM): I had to get me some of this after reading the Beauty Addict's rave review. This little gem works using the steam of your shower to smooth and soften skin in ONE MINUTE. Leave it on for a minute, then, before rinsing, gently scrub skin to exfoliate dead skin cells and extract grossness from pores. Skin is left feeling smooth and soft without feeling flaky or tight. I literally cannot keep my hands off my own face after using this product. I bust it out twice a week.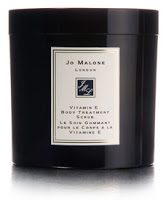 Jo Malone Vitamin E Body Treatment Scrub ($75): Weren't you just looking at your skin thinking, "dayum! Those surface cells are looking so June 2008. I need to slough, stat."? This moisturizing exfoliator looks and smells like scrubby marzapan. Comes in container nearly the size of my bathroom trashcan, which is good because when I like something (and I love this scrub), I want a strange amount of it. The scrub's luxe blend of Vitamin E, salt, organic brown sugar, avocado, wheat germ oil olive oil and shea butter sends dead skin cells running.
NARS Nail Polish in Dovima ($16): It's a NARS nail polish kind of day at BBJ HQ, isn't it? I am LUH-VING this one. I'm a longtime NARS fan, but was pretty new to their nail polishes. I'm a convert to this Dovima shade, a hot tomato red. Paint it on blah nails (make sure they're short and rounded – for some reason, red on square nails screams hooker to me) and you're instantly transformed into a Mad Men female protagonist. I can't explain this, it just happens.