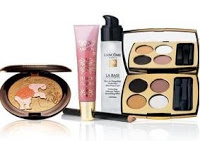 Lancôme's new collection, Maharani Jewels, pays homage to India and is a reflection of the country's alluring colors and elaborate designs. As the great Diana Vreeland said, "Hot pink is the navy blue of India!"
From the fragrant spices, to the natural hues of India's landscape, to the beautiful colored jewels that adorn the neck of a Maharani, or princess, all of these unique elements highly influenced Lancôme's fall color palette. The elephant bronzer is my fave of the collection. It's a chic bronzing compact embossed with an iconic symbol of India, the elephant, which signifies royalty and internal strength.
Poudre Elephant Teint
This is the perfect product to achieve a gorgeous glow. In India, the elephant is one of the most revered symbols, denoting royalty, inner strength and nobility. Now this iconic symbol can be found embossed in the powder of this new limited-edition bronzer.
Suggested Retail Price: $36.50
Maharani Juicy Tubes
Inspired by the intricate motifs of Mehndi art, these Juicy Tubes are embellished with a golden design of scallop lines, dots, teardrops and paisley shapes. Shades range from Mango Mystere to Guava Enchantment and Autumn Jasmine. Suggested Retail Price: $18.00
Le Crayon Khôl Kajal
This ultra-soft khôl divinely glides across lids, lining them in exquisite deeply pigmented color. Natural jojoba oil and organic beeswax make application smooth and comfortable. For sultry eyes, evocative of a Bengal beauty, India Ink imbues an intense black for a captivating look. For softer, but equally sexy eyes, smoke out the rich brown hue of Amber Night or delicately apply the lustrous color of Smoky Henna. Suggested Retail Price: $23.50
Maharani Color Design Eye Shadow Quads
The raw and natural tones found throughout India's countryside are seen in the Lotus Splendor palette with its earthy brown, peach and copper eye shadows, while the Secrets of Benghal palette features soft pink, dusty mauve, eggplant and highlighting shadows. Paired with Le Crayon Khôl Kajal in India Ink, the combination of shadow and dark liner work in harmony to create a sultry, intense eye look. Suggested Retail Price: $40.00
Availability
July 2008 at lancome-usa.com, specialty stores, the five Lancôme boutiques and counters nationwide.