"You know how that thrills me."–Miranda Priestly, The Devil Wears Prada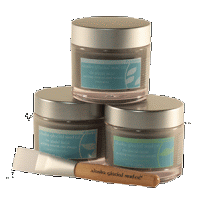 Well, moving at a glacial pace certainly doesn't thrill me either. Miranda and I have that in common. I rarely leave NYC for more than a four-day span because I find the efficiency level plummets by at least 50% the minute I leave the island. That's why I truncate most of my vocabulary, BT dubs. It's simply more effish. You should try it (if you haven't already.) But a glacial mud mask? That's another story.
Alaska Glacial Mud Co. Glacial Facial in Vanilla-Lavender ($34) is efficacy in mask form. Apply it with a brush (you can purchase this with the mask for an extra $6), leave it on for ten minutes (I like to wear it while watching The Colbert Report) and then wash off with a cloth to reveal smoother, purified skin. The glacial facial purifying mineral mud masque contains the most mineral-rich and pure glacial clay in the world, harvested from the remote waters of the Copper River Delta in Alaska. Contains more than 60 nourishing major and trace elements to promote healthy skin cell regeneration. You'll see a difference after leaving it on for a mere five minutes. Leaves you so much free time to wax poetic about the history of one's cerulean blue sweater.
Available at Henri Bendel and online at alaskaglacialmud.com.