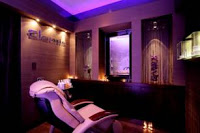 For the month of June on Tuesdays and Wednesdays, customers will be able to book 2 SpaPods for the price of 1.
Both men and women can enjoy the Elemis spa experience in the convenience of the department store.
It is a total skin and body rejuvenation in a half hour without having to undress.
Choose from 5 different 30 minute Power Booster Facials (depending on your lifestyle and skin type) while experiencing a customized massage in the Intelligent Massage Chair.
Afterward, you can pop by your favorite makeup counter for a touch up (or head upstairs for some shopping)!
Where: Bergdorf Goodman Cosmetics Floor
When: Tuesdays and Wednesdays for the month of June
How Much: $55 (so for $55 you get $110 value)