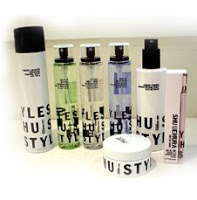 Hair obsessives rejoiced about Shu Uemura's new line for hair that debuted this year. My fave of late is their Satin Design White Tea Polishing Milk, $30 (second in from the right). My hair GLEAMS. I'll just say it. It's never looked better. AND I'm four months out from a haircut (January 25 was my last one.) I apply a quarter-sized dollop from my ears down to the ends of my hair after letting my hair dry in a super-thirsty Aquis towel for about 20 minutes. Then, I blow-dry with my round Marilyn tuxedo brush and my T3 Evolution. This creamy lotion polishes my hair with a glosstrous finish. I (and others) can't keep the hands out of it.
P.S. I did some MAGE shopping damage this weekend. I'm sure I've mentioned my TJ Maxx in swanky neighborhood addiction, haven't I? Well my usual "tour" when I'm at my parents' house (where I was this Mem Day weekend) includes the following stores:
St. David's
Devon
Willow Grove
East Norriton (not so good, but once in a while, I've found a gem or two)
If you live in the Metro Philly area, I do suggest you hit these up. I've put them in order for you. The St. David's one had a Pucci dress for $600. Okay? Just saying. Here's what I got:
A gorge girly navy blue Laundry by Design dress that is PERF for work. It's a little above the knee, but not scandalous and somehow fits me despite the fact that it's a size zero petite. That's the nature of the TJ Maxx beast… things are usually mismarked. But this one was mismarked in such a flattering way, n'est-ce pas?
A Laundry by Design ruffly three quarter sleeved belted trench coat. I'm in LOVE with it and want to have 10,000 of its babies. I adore, mi amore. Laundry by Design, BTW, is my new fave designer.
Four pairs of shoes: Loeffer Randall for Target metallic pink flats, Nine West patent open-toed black heels, a pair of plain boring back Me Too pumps for work that are so comfortable, I'd gladly walk a mile in them, and Tahari grey ombre patent open-toed heels.
A silk three-quarter flouncey-sleeved print mini dress by French Connection. I don't usually love a print, but this one spoke to me. It's purple, gold, and red.
Two Mossimo Black Sateen Shift Dresses: one in black and one in Kermit, a cleverly-named light green from Target. LURVE.
Last but not least… the TJ Maxx in Devon had just one gorge navy blue strapless BADGLEY MISCHKA DRESS. I mean, it's couture. It's divine. It's the most phenom thing I've ever owned. And it was only $200; originally priced at $800. If you invited me to your wedding, I hope you like it. Because I'm going to wear the hell out of it. On every single possible occasion.
Click here to enter Total Beauty's contest to win a Saturn Vue Hybrid.