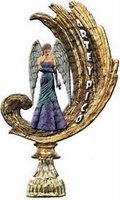 The fab Melissa picked BBJ to win the Arte Y Pico award! Thanks, Melissa! BTW, I just finished the second book in her series, Violet by Design and LOVED it. This one takes place mostly in Brazil. Can you even? There's even a fictional Gisele-type in the book whom Violet gets to work with. And a cute male Brazilian designer. Do check it out.
Here are the rules of the Arte Y Pico Award:
1. Pick 5 blogs that deserve the award for creativity, design, interesting material, and also contribute to the blogging community, no matter what language.
2. Each award has to have the name of the author and also a link to his/her blog to be visited by everyone.
3. Each award winner has to show the award and put the name and link to the blog that has given her/him the award itself.
4. The Award winner and the one who has given the prize have to show the link of Arte Y Pico blog, so everyone will know the origin of this award.
5. To show these rules.
Here are the five bloggers who deserve the award, in my humble O:
MonkeyPosh: Parisjasmal is HILAR and features her dogs, shoes, beauty products, and amazing vaca pics.
NY Spender: A great resource for fashion advice and deals (her cat has his own column called Bullitt's Deals).
Eye4Style: The fabulous Dina is "full of opinions," but she's full of the ones I want. I'm so stocking up on the Honeydew panties she mentioned are on sale on her blog this week.
Fashion Binge: "So much style, you'll want to vom" is the tagline. Tamron and Mary-Kate provide me with much-needed afternoon comic relief. And Tamron abbreves her words on a level that parallels even my own.
My Life with Two Carry-Ons: Jammahs shares her hilarious anecdotes from her life as a consultant. She was even featured in American Airlines' in-flight magazine. Check it fo' sho'.