I got zero beauty sleep last night because apropos of nothing, my roommate Carrie and I decided at midnight that we just HAD to watch our fave parts of Mannequin, which I naturally own on DVD just for these reasons. Carrie's fave parts? When James Spader's character calls the nefarious BJ Wert and refers to him as "Beej." As in, "BJ? Beej, are you there?" We both love every single scene with Hollywood Montrose, but she most adores when he says, "Mama, put the coins on my eyes 'cause I SURE don't believe what I'm seeing."
My ultimate fave? The mother f'ing montage scene where Jonathan and Emmy try on ALL the clothes in the fictional Prince & Co, which Philadelphians know is really the old Wanamaker's building with my favorite restaurant ever, The Crystal Tea Room on the top floor. Check it:
There is a point to this Mannequin-induced rant, and it IS beauty-related. I have always been obsessed with Kim Cattrall's shoulders. Even in SATC in her FORTIES, bitch's shoulders shine like the top of the CHRYSLER building. Mannequin was obv her peak. I am criminally jeal of her shoulders in this scene. For shoulders à la Emmy, I recommend:

Thymes Red Cherie Body Scrub ($30)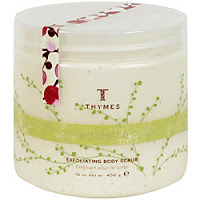 This non-greasy scrub sloughs off dead skin that hinders your ability to rock reflective shoulders. Its pure sugar crystals scented with the flirty fragrance of Thymes Red Cherie are even gentle enough for everyday use. The fragrance is derived from sparkling pomegranate, ripe cherries, passion flower, a twist of lychee with a tea. Yum, yum, YUM.

BODY by Sonya Dakar Nourishing Body Oil in Verbena Cypress ($60)


This antioxidant-rich body oil hydrates and silkens the hell out of skin. It's 100% natural and packed with Organic Omega-3 complex, recognized for its regenerative benefits. Sweet almond and vitamin E oil strengthens skin cells while increasing elasticity. A light application imparts a sexy sheen and smells DIVINE. Verbena is one of my fave scents of 2008.
I dare say, Emmy's dance is almost as phenom as Elvira's in Scarface. What's your fave Mannequin scene? Go.