So here's the situation.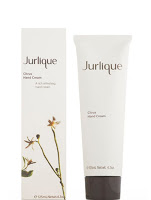 I work downtown right near the entrance to the PATH station, which is a commuter train to and from Jersey City and Hoboken. The entrance used to let out a couple blocks from my office. Due to WTC construction progressing, they've moved the new entrance about 100 feet from my office at 7 WTC. So there are now ONE MILLION people I battle in order to walk on Vesey Street to my office. It was crowded before, but now, I actually come to a complete standstill. ON FOOT. And I also have the misfortune of always walking in the wrong direction as the throngs of pedestrians, much like a salmon. I am actually convinced there is no one in New Jersey at 9am and 5pm on weekdays because all of the state's residents appear to be on Vesey Street. I'm considering identifying an alternate, roundabout route to work.
One surprising positive? I now have time to apply my Jurlique Citrus Hand Cream en route. Je l'adore, dolls. It smells of a citrus grove with essences of tangerine, mandarin and lemon. It smooths, moisturizes and doesn't leave me greasy. $25. It's the best hand cream, ever. If you're walking near me on your commute, I'll offer to share mine with you.
P.S. If you haven't already, join the BBJ Facebook Group!