Check out the retro colors.
Last Friday I attended a blogger event at a showroom where several designers' Fall 2008 collections were featured including Thuy, WILLOW, and Thrive, to name a few. But I fell DEEPLY in love with a brand of shoes to which I hadn't previously been introduced: Olivia Morris.
Her shoes are crafted from DELECTABLE Italian leather and just speak to a usually ignored part of my psyche. She chooses the most unusual, retro "ish" (greyish, blueish) colors to create shoe confections that are very a-higher-rent-circa 1955 Lorraine McFly.
London-based Olivia Morris graduated from legendary cobbling school, Cordwainers College, London in 1996. Just a couple of years later, while still freelancing for companies such as DKNY, Morris set up her own label. She launched her first collection for Autumn/Winter 2000, which was immediately coveted by both press and buyers. Morris opened her own shop in 2002 on Portobello Road in Notting Hill, and her shoes are sold in boutiques and department stores around the world. Says Morris,"I design shoes for the modern contemporary woman who loves fashion," says Olivia, "but doesn't take it too seriously."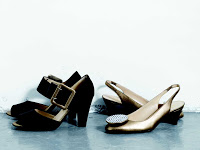 I am LIVING for the gold shoes on the right with the crystal disc adornment. GORGE.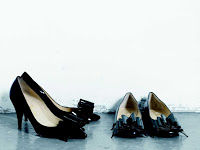 The bow on these is to die. Can you even?
I have a shoe crush.