Saying I enjoy big hair is like saying that Mr. T. simply ENJOYS a big gold necklace (or seven). In fact, I saw Stop-Loss this weekend with my friends Lauren and Jaime, and while I think that Abbie Cornish is cute, I desperately wanted to leap INTO the movie screen and give her some volume at the roots. But, now that I've highlighted again, I need to be careful that all my products maintain my hair's moisture balance lest I channel a haystack instead of, say, Kate Hudson. I pity the fool who isn't making the most of the hair she's born with. Here's what I'm loving for creating voluminous strands:
Bumble and bumble Spray de Mode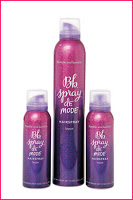 This cutting-edge holding/finishing/glossing spray was created backstage during fashion week. Bumble and bumble's goal was to create a hairspray that could finish styles yet stay flexible and soft. It contains polymers to withstand brushing, running your fingers through it, crimping, and general chicanery. It also contains glycerin and silicon so you can rest assured your coif won't lose its luster. I Spray de Mode-d this weekend and have since slept on my Lauren Conrad waves TWICE and my hair's still looking pretty phenom. The spray itself smells of floral delishness. $25. Visit www.spraydemode.com to get hairstyling tips and fab behind-the-scenes videos.
Aveda Pure Abundance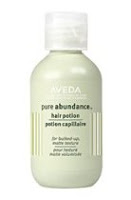 At the TotalBeauty/Aveda Fashion Week kick-off dinner at Koi in early Feb., Ellen Maguire of Aveda demonstrated for us how this product's innovative formula transforms in your hands—from a powder to a light, absorbent lotion. I hesitated this long to try it out because I feared it would make my hair too piecey. I was dead WRONG. When applied to hair, it increases its diameter and creates an abundance of texture and volume without any greasiness or stickiness. I like to take a 3 inch section from the back crown area and apply the potion to the roots UNDER the section so the top part remains clean and pristine. No one knows that the bottom of the section is working overtime to plump it up. It claims to thicken up to 17% and I can attest that this is true. $22.
Ojon Hydrating Thickening Spray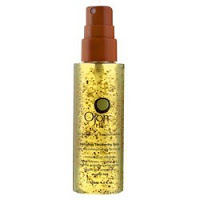 I am so late to the Ojon party, but now that I'm here, I'm totes going to drain their champagne stash and be the last to leave. This volumizer nourishes, repairs and strengthens as it fattens and lifts fine damaged hair. It includes nourishing Ojon oil that is suspended in microspheres in the spray bottle. It also contains no alcohol so you can feel good about using copious amounts on color-treated locks. I rarely stray from my T3 360 Plump, but this has given me good reason to switch it up for the time being. $30 at Nordstrom.com.
Is it weird that I'm this obsessed with big hair even though I was born North of the Mason-Dixon line?