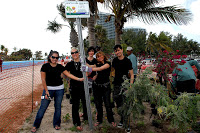 NARS Cosmetics recently held several events in celebration of the brand's Spring 2008 ad campaign featuring Lydia Hearst. They kicked off an "Adopt a Park" campaign to preserve and makeover a Miami Dade County park.
NARS Cosmetics and some local Miami community members volunteered to plant flowers and trees at Haulover Park. To help unveil the newly beautified park, Miami Dade County Commissioner, Sally Haymen, Park Director, Jack Kardys and Assistant Director of Operations, Frank Faragalli were in attendance to celebrate the event as well as to accept NARS' contribution to Miami-Dade County treasury on behalf of Haulover Park. All volunteers received a discount on the NARS Web site and a NARS Multiple in themed-shades South Beach or Palm Beach. Community service is worth it, right dolls?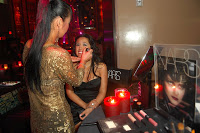 NARS later hosted a celebratory "VIP Lounge" at SET Miami where guests experienced "touch ups" with NARS makeup artists. Attendees received the brand's key spring item, NARS Multiple in Orgasm. I'm dying to get my hands on one of those. Looks like a trip to Sephora is in the cards for this weekend.
NARS 2008 spring collection is available on www.narscosmetics.com.