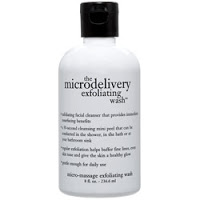 Drumroll… the final wash of Wash Me Amadeus Week: Philosophy The Microdelivery Exfoliating Wash ($25).
I love this mild, exfoliating facial cleanser – it does the job when I want some exfoliation.. but don't want to break out the big guns. Best of all, it's gentle enough to use daily. However, this is not a product that removes makeup. The directions actually advise you to keep it away from the eye area, so make sure to remove makeup pre-wash. The wash's formula is sulfate-free (I loathe a sulfate) and formulated with topical antioxidants to help condition the skin and retain its moisture level. I used it last night and found my skin was buffed to a radiant shine without irritation. It's perfect for use before applying a facial self-tanner.
Hope you all had a great weekend! Mine was relaxing and shop-tastic. I spent the weekend at my country home, A.K.A. my parents' house outide of Philadelphia. I did very well at both Target (LURVE the Jovovich-Hawk line!) and at my secret obsession, TJ Maxx in Philly's Main Line. At the latter, I scored:
Marc Jacobs shades for $30 (!)
A gorge red raincoat
A spring-weight Vertigo black trench
A gold Via Spiga belt
A Diane Von Furstenburg white wrap dress for $70 (!)
I also finally used two Tiffany gift cards that have been burning a hole in my wallet for two YEARS. If you live in the Philadelphia metro area, I HIGHLY urge you to seek out Kim at the King of Prussia Mall's Tiffany & Co. store. She's a DOLL, but N.B. – she only works on weekends. It's her side gig. I wound up purchasing a polishing mitt, a gorge necklace and a pair of earrings that I love the hell out of.
Update your bookmarks to http://beautybloggingjunkie.com
Have a minute?
Take the BBJ demographics poll.
src="http://pagead2.googlesyndication.com/pagead/show_ads.js">