Because I can't imagine how Harper's managed to have so much work done. Explain that mystery to me, Damon Lindelof and Carlton Cuse.
Other than the phantom Botox, last night's LOST episode was PHENOM. It was one of my favorites of the season. First: I love the title's quadruple entendre:
It references that fact that Juliet is:
1. "The other woman" whom Goodwin is seeing;
2. "The other woman" aside from Kate, whom Jack has feelings for;
3. A woman who was one of the Others; and
4. "The other woman" for Ben, referencing the woman whom she looks just like (Harper says to her, "You look just like her." I'm thinking maybe this refers to Annie?)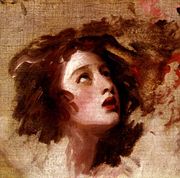 Left: Oil sketch of Emma Hart, later Lady Hamilton, as Miranda, by George Romney
I love the new Dharma station's name, The Tempest, named after my one of my FAVE books. In fact, I am planning to do a Channel This Literary Character series and Miranda was first on my list. I've always seen her depicted in paintings with gorge red hair and rosy cheeks. We're into that idea, right? Let me know how you feel in the comments. In case you're interested, others include Catherine of Wuthering Heights, Amy of Little Women, and ALL of the characters in Valley of the Dolls. I envision a Channel This Movie Character series as well, including Holly Golightly, Lorraine from Swingers, Penny Lane from Almost Famous, and Patricia Franchini in A bout de souffle.
The Tempest
The Tempest is a play written by William Shakespeare, which was first published in 1623 (two of the numbers). I love the LOST writers' commitment to Shakespeare (see: Juliet). It tells the story of the king/sorcerer Prospero and his daughter Miranda, who are stranded on a mysterious desert island that has mystical properties. Prospero raises a storm, or tempest, which causes a passing ship containing his enemies to run aground. Using magic, spirits and a man-beast creature named Caliban, he separates and manipulates the survivors of the wreck for his own purposes. The play ends with Prospero restored to his former glory. Sound familiar?
Ben's character, I've always thought, was very Prospero-inspired. His relationship/protectiveness of Alex is the first parallel that comes to mind. Like Miranda, Alex is usually a naïve, sheltered girl. She has great intelligence, but seldom transcends her passive role. Ben's MANIPULATION is also highly reminiscent of Prospero. Interesting to note: at the end of the play, Prospero drowns his books and renounces magic.
Also interesting: "TEMPEST" is a US government codename for the concealment of so-called "compromising emanations" in part through the use of Faraday cages to contain the electromagnetic radiation of entire buildings.
Tempest is also the name of an 3-Dimensional arcade game produced by Atari in 1981.
Jackuliet?
I don't enjoy the development of the relash between Juliet and Jack. I still don't trust Juliet, and something about that kiss was strange. I get that Juliet is very damsel in distress, and Jack is nothing if not a knight in shining armor, but this scene just didn't work for me. The amazing Jeff Jensen of EW feels the same way. Read his article, he also points out that at this point in the LOST timeline, the tsumani occured on December 26, 2004. So the severe rain that occured during this ep may have been a nod to that in addition to being a nod to The Tempest. What's up with Ben's smarmy posessiveness of Juliet? I originally got the feeling that they had some kind of tumultuous past, that they'd been involved from his sour grapes attitude toward her in her first episode, "Not in Portland." But I'd totally abandoned that theory and just chalked up Ben's weird behavior to his all-around ridiculosity until this episode. The creepy crush subplot was genius. Juliet is sort of like Prospero's slave Ariel whose gender has always been hotly debated.
BTW, I owe every bit of my literary/LOST analysis knowledge to this man, Jefferson Kline. If you happen to be a BU student, or live in Boston, look into taking one of his classes. I took three while studying there and they changed my lifestyle. I also recommend his books Screening the Text, and Bertolucci's Dream Loom.
What did you think of this episode? And doesn't Juliet have the most gorge, adaptable mane on the planet? I'm working on finding out how she achieves those curls. Stand by.
Also, just curious, and I'm experimenting with PollDaddy:
polls – Take Our Poll
Photo credit: LOSTpedia.org
src="http://pagead2.googlesyndication.com/pagead/show_ads.js">