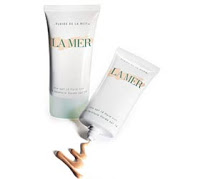 Did you hear the sad news about Patrick Swayze? He was just diagnosed with cancer and may only have weeks to live. How awful, right?
In his honor, I think it's only right to recommend a product that gives you a "That was the summer we went to Kellerman's" glow while shielding your skin from damaging rays. La Mer SPF 18 Fluid Tint $65 captures beneficial light while diverting potentially damaging light. It brings a touch of color to the skin for a smooth, even finish. I've been using it over a light moisturizer and it actually provides coverage as well. If you need light-to-medium coverage, I totes recommend it.
More details from the La Mer website:
Designed for daily use, this water-borne formula absorbs instantly into the skin to provide broad-spectrum UVA/UVB protection. A trio of natural and sea-derived ingredients uniquely benefit the skin. Gemstones absorb light energy, transforming it into beneficial green light to enhance anti-oxidant activity. Photonic spheres within The SPF 18 Fluid Tint redirect and diffuse light. Smart, light-reactive seaweeds impart natural humectant properties to bind moisture – preventing dehydration. Worn over Crème de la Mer, The SPF 18 Fluid Tint acts as a generator, actually boosting its efficacy.
Rock it daily and you'll be looking so young and spry, people might even start calling you Baby. And it won't occur to you to mind.
Photo credit: cremedelamer.com