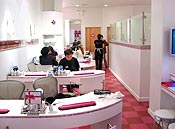 Hope you all had a fantastic weekend, dolls! Mine was phenom. The highlight? On Saturday, Marina and I headed to Dashing Diva for a mani/pedi at their 3rd Avenue @ 15th Street location. This was my first DD experience AT the salon. Remember how much I enjoyed my DD experience at the Allure/Lifebooker.com party? Well the in-salon experience is ama. The Elle-Woods-Pink salon is a relaxation oasis that's positively built for gossip, fun, and pampering. It even boasts a pedicure lounge that's set up to maximize the bonding experience. No huge complicated chairs, just comfy benches trimmed with pretty throw pillows. The best part? On Thursday and Friday evenings they serve cosmos in the pedicure lounge. Is there a better combination than pedis and delish pink drinks? I can't think of one.
Dashing Diva also takes sanitation VERY seriously. They never reuse a nail file and sterilize all tools between uses. It's a bit more expensive than your run-of-the-mill/on-every-corner NYC nail salon, but I'd trade assurance that I'm not going to get a FUNGUS for an extra $5. Marina also enjoyed a delish tea whilst we mani/pedi'd. When was the last time you were served a bev at the nail salon? While I love Niu Nails II… that certainly doesn't happen there. And my nails are looking phenom and won't chip for days.
In other news, I found The Other Boleyn Girl disappointing. Henna had warned me, as she'd seen a premiere of the movie earlier in the week, that it was TOTALLY different from the book. She was so right. Why do movies do that? Is ANYONE happy when the plot is totally changed? I'd like to meet ONE person who feels that way. There were so many asinine departures from the book. An example: Mary has only one child in the movie and it's a boy. What kind of creative justice is that? Also, I adore Natalie Portman, but I think she was miscast in this role. She does a good job, but she's just NOT a villain. I was also expecting a bit more bodice ripping. Just saying. Maybe I'd be less disappointed if I hadn't seen The Tudors first. The girl who plays Anne Boleyn in that is AMAZING. She's IT to a tee. When she looks at you, you turn to ice. That's what I'm talking about. Natalie tried her best, but she didn't convince me. However, I found Eric Bana to be a very believable Henry. More so than Jonathan Rhys Meyer, who's great, but just doesn't look the part. Other weekend activities included eating ridic quantities of foods at Tao, catching with my fab college friends Megan and Andre who were in town, and finally catching up on last week's Make me a Supermodel ep. Did you see The Other Boleyn Girl? What did you think?