So my parents drove in for dinner to try out a new restaurant on my street called Pamplona (delish!)and I'm kind of delayed. Pamplona, BTW, is on 28th Street between Park and Madison.
Apparently, everyone's schvitzing to death under the tent. Ryan Seacrest's personality is grating on my sanity.
I'm totes behind, but here's whose looks I'm loving so far on the Red Carpet: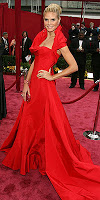 Heidi Klum's hair, dress and makeup is TO DIE. Red looks smashing on her, she's KILLING the red carpet. I love her enorm filled with extensions bun.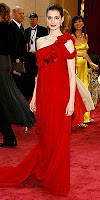 Anne Hathaway is also knocking them dead in red. Her makeup is flawless. Her hair is okay, I'm not obsessed, but it looks pretty. Her lipstick is phenom. She must be rocking some Lancome, I can't wait to find out exactly what it is.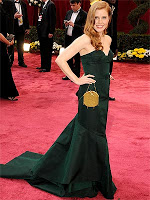 Amy Adams is channeling Rita Hayworth like whoa. She looks gorge. Is her dress black though? That's boring. Oops, nevermind it's green. Couldn't tell on TV. That's a great color for her.
It looks like Jessica Alba's top half of her dress is in the process of being muppeted. I'm not a fan. The color's pretty, though.
Daniel Day Lewis looks like a haggard pirate. UGH.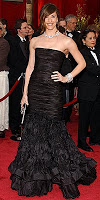 Jennifer Garner's hair is GORGE. Her necklace is super sparkly. But I'm too busy snoring over her dress. I'm bored to DEATH. Is this Jennifer Garner or Jennifer Aniston? That said, for a black dress, it's one of the prettier ones I've seen. The bottom is really interesting.
Gary Busey just kissed J Gar on the NECK!! HILAR! She just called him out.
OMG I LOVE KERI RUSSELL'S CONCEPT. That dress is the color of DREAMS. I think that one's a fave contender.
The Clooney is handsome as hell.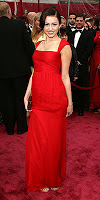 I think Miley Cyrus looks absolutely beautiful. Her dress is so pretty and age appropriate.
Marion Cotillard looks so so pretty. Her dress is mermaid perfection.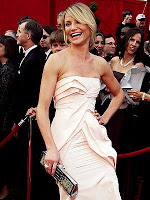 Can Cameron Diaz invest in a lipcolor please? I'm so put off by the way she looks in her upcoming movie with Ashton Kutcher. I'm not impressed, Cam. Her hair looks like she's about to go to the gym.
I adore Helen Mirren, she looks amazing.
My roommate Carrie just threw a "FEH!" at Tilda Swinton and she's right. Tilda, doll. Can I call you Til? PuhLEASE rock some makeup on the red carpet.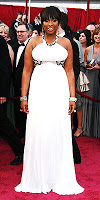 Jennifer Hudson looks AMAZING. Thankfully, she's lost the super small bolero. Her hair is to die.
I'm not impressed by Hilary Swank. "Meh" on her.
Someone needs to cut Colin Farrell's hair.
Ellen Page is wearing black AGAIN. I'm sleeping.
Casey Affleck is a sexy BITCH.
Renee Zellweger's hair is a TRAIN WRECK.
Photo credit: People.com