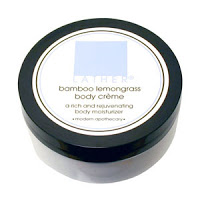 Itchy love handles – no, thank you. At my bookclub meeting on Wednesday, several gals were complaining about love handle itch due to the dry winter weather. I'm experiencing this as well and it's not sexy, dolls. But it's easy to combat. I've been taking care of my dry handles with LATHER Bamboo Lemongrass Body Crème $22. Here's the review I just wrote for it for Total Beauty:
Pricey for a body crème, but if you're in the market and are looking to indulge, you'll find a winner in LATHER's piquant, therapeutic hydrator. Its thick, deeply moisturizing formula is perfect for smoothing rough elbows, knees, and heels that have endured rough winter months. The lotion penetrates quickly to recharge dull skin. Essential oils combined with bamboo extract encourage new cell production and impart a light scent that subtly remains without overpowering your perfume.
Just an FYI, I'm referring to that entire area of "side skin real estate" as love handles. I'm not referring to weight, or implying that anyone with itchiness in that area is having issues because of muffin top.
P.S. My friend Courtney from my bookclub came up with the title, I cannot take cred. It's pretty phenom, n'est-ce pas?
P.P.S. I'm working on a LOST analysis as we SPEAK. Stay tuned.
Photo credit: LATHER.com