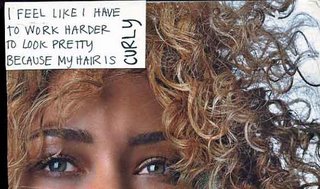 Gals, I read this postcard on Postsecret a couple weeks ago and it made me sad. Curly hair is GORGE. Exhibit A: Rebecca Gayheart. I hate that natural curls aren't 100% en vogue right now. With the popularity of the straightening iron in the late 90s, there wasn't a curl to be found. Just another reason I LOATHED the 90s. Circa 2003, Gisele waves came into fashion and they're still riding the wave of popularity… but there aren't too many curly haired celebs who rock their natural hair situation. Curly hair isn't easy, it's something you have to LEARN how to take care of. Yours truly used to BRUSH her curls. Okay? Can you imagine how NOT attractive this made me in middle school? I simply didn't know better. But now I do, and I attribute part of my obsession with beauty and products with my quest for curl perfection once I started high school and learned how NOT okay my hair was looking.
If you have curly hair, I beseech you to go to the Ouidad Salon on 57th Street between 5th and 6th Avenues immed if not sooner. I brought my friend Sandra with me to their Curls Night Out event tonight and even MET OUIDAD herself. She's a delight, by the way. You know those people with whom you're INSTANTLY comfortable the second you meet them? That's her. I was literally introduced to her approximately one second after shoving a dill-infused cheese cube into my mouth and she was totally like, "Doesn't it always happen that you are introduced to someone the SECOND you dig into an hors-d'oeuvre?" Anywho, one of the stylists at her salon, Alex, taught me exactly how to style my hair curly so that it looks fab. I highly recommend her, my hair looks better than it's ever looked when I've done it curly myself. I've said it before and I'll say it again: styling curly hair is NOT intuitive, dolls. Learn that shiz.
The Process
When hair is wet, (if you shampooed recently, simply wet and condition) apply a dime sized-amount of gel to the crown and hairline. Then, divide hair into two sections and clip up the part from your ears up. Take 2 inch sections and rake a dime-sized amount of gel through hair with your fingers from two different angles (across the top to the end and then from the side to the end) while holding the ends of the section with your other hand. Then, hold just the end and shake the curl so that it begins to form. Do the same thing with top half, but leave the top front part in the clip for last. Once you've raked through the rest of your hair, divide the very front wherever you want your part, then perpendicularly insert three or four clips at the very front/bangs section so that your hair won't dry flat (flat curly hair is the pits.) Then, take a towel and scrunch hair LIGHTLY with it while leaning back. Then, blowdry using a diffuser (don't even THINK about not using a diffuser) until hair is 65%-75% dry if you can (in the winter, you may want to either dry it all the way, or plan ahead so that your hair has time to dry. Ouidad herself confirmed that letting your hair air dry a bit will allow your curls emerge better. My hair, now fully dry, looks fantastic. I have non-crunchy, non-sticky, fully-formed bouncy curls that I am loving. Here's the curl product cocktail Alex used to achieve the look. That doll Ouidad sent me home with a care package of full sized products of EACH of the components she used. What's better than that? Not one thing!
The Products
Ouidad Clear & Gentle Shampoo (As I mentioned, Alex didn't use this, but I'm dying to try this out)
Balancing Rinse Conditioner
This stuff is oil-free, wax-free, and animal fat-free. It can also be used as a leave-in conditioner, which Alex did for me. She left a small amount in my hair before applying gel.
Ouidad Botanical Boost
This stuff I'm really excited about. Alex sprayed some of this on the ends. It's a very light conditioner that can also be used to revive next-day curls. I can't wait to see how my hair fares tomorrow with it.
Ouidad Tress FX
I love this light, non-gluey (do you know what I mean?) gel. I'm also a fan of Ouidad's Heat & Humidity Gel, but Alex informed me that that's better for me just for summer. Tress FX is easy to work with, doesn't feel tacky on my hands while I'm applying, and dried to a gorge finish.
Ouidad Shine Glaze Serum
was applied last, just a bit all over without disturbing the curl.
Even if you don't use these products, try out the Ouidad method and let me know if you like your curls just a little baby bit more. Just remember, don't TOUCH your hair after you've blowdried. The less you touch it, the better it'll look.