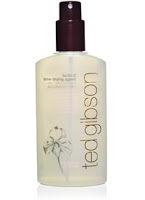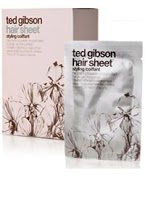 I had the best kind of 8am meeting this morning, dolls. THE BEST KIND. It took place at Bendel's – their Spring 2008 Press Preview Beauty Breakfast. Okay? And we were served a divine breakfast of berries, almonds, and mascarpone (at least I think that's what that was). The event was sort of trade show-esque, a bunch of vendors and PR people explaining new cosmetics, skincare, and hair paraphernalia. In a word, heaven. I was expecting to be experiencing product nirvana, but I was NOT expecting Ted Gibson himself to be there DOING HAIR. You better believe I got my hair done by him, in the flesh. Now, I have to say, my allegiance is to my first stylist-crush, Orlando Pita. But Ted Gibson is a CLOSE second. He's hilarious, talented, and his products are PHENOMENAL. On me he used his build it blow drying agent which produces body and volume for all textures of hair. Inspired by the secrets of red wine, its merlot complex creates luscious body, bold movement and intense shine to your hair. Do you love it? How innovative to use WINE as a component of your hair product. Then, he patted on down my hair with one of his signature hair sheets, which have impressed me before. He's phenom, I'll just say it. Not only did he get to grace Oprah's creamy yellow couch last month, he is off to Chicago to the HARPO studios this afternoon to style a celeb who is going to be today's guest. I'm in a similar situation to the last time I had such gorge hair… my plans tonight consist of going to Brooklyn for my monthly bookclub meeting. Which I'm totally into, but my plans never seem to align with my fantastic hair. What can you do. Rest assured, I have an appointment with his protoge, Michael Ulm, per the recommendation of my friend Courtney this Friday at the Ted Gibson salon. I'll obv report the entire experience, lest you worry.
I met the fabulous Marina of Makeup Loves Me and caught up with Julia of All About the Pretty who so GRACIOUSLY has offered to help make biz cards for me (I'm so out of the loop with that, it's embarassing). I also saw Erika of Makeup Bag and met the fabulous (and darling!) Andrea Pomerantz Lustig, who is Glamour's Beauty Columnist. I've been following her beauty advice for years! I also caught up with Kristin from Total Beauty as well.
Stay tuned for reviews of all of my fave product freebies from the event. I tried out a line of perfumes that I ADORE (and you know it's rare for me to want to stray from Burberry Classic), a faboo Brazilian Designer's new fragrance, more Ted Gibson products, Laura Mercier faux lashes and MORE.
xoxo,
F