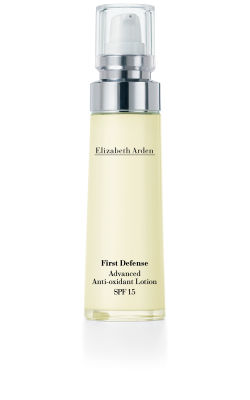 Anonymous, who I'm pretty sure is my friend Emily, writes:
Q: With the change in weather I feel like my skin is peeling right off my face (and halfway through the day at work I see that it actually is peeling!). What is a good hearty moisturizer I can use, preferably with SPF?
A: While I have the opposite problem, I know how to handle this Q as a mere three years ago, my skin was TOTALLY dry. I guess I should be glad that I've had the opportunity to experience all kinds of apocalyptic skins because it's all the better to advise you with, my dear!
I love Elizabeth Arden First Defense Anti-oxidant Lotion. It's $39 and contains carnosine and wolfberry plant extract, proven anti-oxidants to help build skin's natural resistance against signs of premature aging. It also includes Vitamins C and E to minimize initial free radical formation. My mother uses this daily and anyone who's ever met her knows that she looks a good 15-20 years younger than her real age of 63. I recommend smoothing some onto your face and neck (NEVER forget your neck or you'll be Diane Keaton-ing it through life – have you noticed the woman's neck is ALWAYS covered? She obv wasn't moisturizing her shiz) and then mixing some with your liquid, not powder foundation. Invest in gel or creme blush/bronzers as they'll dry you out even more. I know I say this daily, but SERIOUSLY. Unless you have very oily skin, the only powder you should ever allow on your face is eyeshadow.
In other news, I attended a Project Runway premier party given by New York Magazine in conjunction with Tresemme last night at Hiro. I invited my friend Stephanie as my "plus one" and we both sheepishly admitted to each other while in line to confirm our names on the guest list that we've never watched the show. I mean, I adore Tim Gunn and I religiously watch his other show, Tim Gunn's Guide to Style. I'll just say it, I'm so hooked. The party was fantastic, BTW. I imbibed quite a few glasses of champagne and clapped with the crowd when the portly Chris, though last to get to the tent where the group raced to choose their fabrics, was able to secure "the fabric he wanted". Yay, Chris! I'm rooting for him! I love the grey Grecian dress. It was beautifully designed and well made. And you know how I feel about grey in general.
Photo credit: elizabetharden.com