My roommate tivo'd The Fashionista Diaries on SoapNet for me and I'm officially OBSESSED. It's The Hills, but so much better. 3 groups of 2 assistants work in editorial (the now defunct Jane, one of my faves), beauty (at Flirt! Cosmetics) and fashion (Showroom 7, I believe, in PR). There's even a straight guy involved in the mix named Andrew, he's one of the Jane assistants. He's super cute in a Simon Rex circa 1997 kind of way, but how smarmy is it that he went into fashion to meet girls? Seriously? Allegedly, he wound up liking it and worked at Kenneth Cole before getting this opp at Jane. But he's such a moron about it, he actually tells the Editor-in-Chief that he's never read the magazine and really prefers GQ. I hate when people who know nothing about anything are offered the opportunity of a lifetime. Even though the magazine folded shortly thereafter. Also, Bridget is totally a jerk, I loathe her. She's so mean to Nicole, who said she likes Juicy Couture. Know what? So do I, BRIDGET. Do I think it's the epitome of fashion? NO. Do they have cute stuff sometimes? YES. So far, my favorites are Rachel, Tina and Janjay.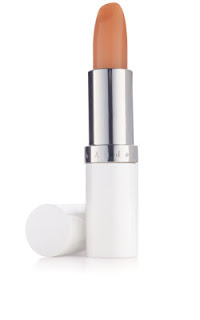 You can never be too rich, too thin, or have too many lip balms. My latest addition is Elizabeth Arden's Eight Hour Lip Cream Lip Protectant Stick with SPF 15. It comes in a real lipstick tube, so you can feel oh-so-fancy busting it out, when you're really just balming it up. It protects, softens, and smooths without making your lips sticky. AND it's a good summer investment as it includes SPF 15.

In other news, I'm loving two new clutches I received from Baghaus, an online handbag retailer that stocks "inspired by" purses in addition to some fun plain purses (non-inspired, I suppose, but I adore the ones I have!). Now, what's great about the "inspired by" bags is that they're not knockoffs, so you need not feel any guilt when rocking them. However, yours truly can't lie, so when someone asks if I'm wearing a Fendi Spy bag, I'd have to tell him or her that I'm wearing a Baghaus "inspired by" version of it, and who needs to share that info? That said, they do look pretty authentic. I indulge in their SUPERCUTE evening clutches. I adore my red snakeskin and yellow patent leather versions. They include a wrist loop so you can allay your fears of losing it after a wild night. The best part? They're each around $25. Can you BELIEVE? Order some by the boatload.
Photo credits: elizabetharden.com and baghaus.com.