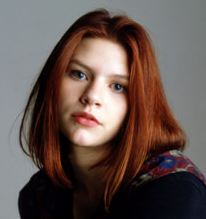 So this weekend I spent about 11 hours on Sunday watching a My So-Called Life marathon (I have the entire series on DVD) with my friends L and J. It occurred to me while I was watching it that:
1) There has never been a more insightful, real, teen TV show
2) Angela's hair is the shiniest in America
3) The show's writers were so right on about so many things. My favorite quote: "There's something about Sunday night that really makes you want to kill yourself." Who didn't feel like that in high school?
4) Am I too old to still harbor a crush on Jordan Catalano? Why wasn't there anyone like him at MY school?
5) It's absolutely CRIMINAL that 19 episodes is all we got. It must be a conspiracy. I mean, how is it humanly possible in a world that the show didn't receive high enough ratings when every single person I know ON EARTH was watching it?
L, J and I decided that drinking every time someone mentions the elusive Tino (who never shows up throughout the entire series) would be a fantastic drinking game. Don't you think? Anywho, there is a point to this and it is beauty-related. You CAN achieve Angela Chase hair fabulosity only you'll need to use tools slash prods that weren't even invented in 1995. Which doesn't explain how SHE did it, but whatevs. Story time: in 1995, I was using Citre Shine and a Conair hair dryer. Okay? YOU can achieve Angela hair with the Bespokes Labs T3 Hair Dryer. This 2000 watt hair dryer has changed my lifestyle. I didn't realize the difference a lighter, quieter, faster, tourmaline-producing dryer could have on me. It's not cheap at $300, but you MUST invest. I mean, how often do you need a new hair dryer. Here are the deets:
Not for the amateur, the Special Edition Bespoke Labs T3 Evolution dryer offers the highest precision and versatility of all of T3's dryers, the Bespoke Labs T3 Evolution dryer features four heat settings and two speed settings for an unheard of eight different settings. The Evolution is tailored with an exclusive pattern that makes no two dryers identical [Fabulista edit: so it's almost like EACH HAIR DRYER IS A LIMITED EDITION ITEM], while boasting a unique bejeweled handle that simultaneously serves as a secure grip.
What it does:
Featuring Flawless™, T3's proprietary manufacturing process, the lightweight Evolution uses tourmaline-infused ceramic components to emit maximum negative ionic and far infrared energy, which together eliminate frizz and drying time while creating sleek and shiny hair. In addition, the Evolution utilizes T3's revolutionary softAire™ flow management chassis, which shapes incoming air into a controlled "cone" of enriched air turbulence that directs a concentrated amount of negative ions and far infrared heat onto large sections of hair for incredibly fast, even drying.
My hair was perfectly styled in about 10 minutes as opposed to 20, and even though I am in des need of a trim, my hair appeared to be in good condition without the use of a straightening iron. P.S.I'm seriously considering investing in a T3 straightener and curling iron as well. Do yourself a favor and get that shiz.