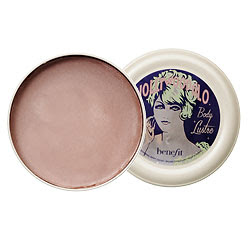 Okay, someone commented on my luminous skin this weekend, and naturally, after totally preening and delighting in this news, I had to post a blog about it. I mean, let's be serious. Although I have to admit, today IS the 26th of WHEN IS COLUMBIA GOING TO TELL ME THEIR DECISION and I totally have a zit over it, so I'm not sure how anyone is commenting on the clarity of my SKIN. But regardless. Let's just take the compliment and explain how it is that I have such luminous skin of late, mmkay?
I actually don't know if she was referring to my facial skin or my body skin, so I'll just provide a brief rundown of every single prod I used on Saturday. Get comfy, this is going to take a while.
Face:
I am still the fairest of them all, so I started with Clarins Self Tanner for face. It's not tinted, so it develops over 5 hours or so. I put it on on Saturday morning. I pretty much apply it about 4 times a week. It's SO necessary in my lifestyle. Then, I used Benefit's You're Bluffing yellow concealer, followed by Biotherm's moisturizing foundation. Then I used Lola's Blush Stick in St. Tropez. Eye concept consisted of this random Clinique eyeshadow palette from YEARS ago called The Metallics. It's basically an array of luminescent grays, Bourjois cosmetics makes a similar compact. Then, I used my trusty Def Con 5 Bobbi Brown Gel Eyeliner in Espresso Ink with a skinny brush. Applied some Clinique Lash Doubling Mascara, put some Laura Mercier Secret Concealer under my eyes and called it a day.
Body:
In the shower, I used Bliss Spa's Shock Therapy and a scrubby towel combo, followed by Bliss Plum Plum Body Butter. Then, I used Lancome's Self-Tanning Spray, but knew it wouldn't show up for a while, so I put on an ample application of Benefit's Jiffy Tan, which is a tanning agent, but it washes off. It makes even the palest gals look sunkissed, yet not orange. And it's just the slightest bit glittery. Put a bit of Hollywood Glo Body Luster on my decollatage. This stuff is DEFINITELY the Business. You'd best check it. Done.
I mean, that's enough prods to open up a STORE. And we didn't even GET to how many I used on my hair. And I prob forgot a couple.