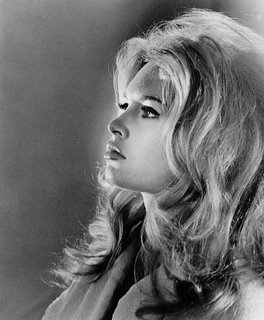 This is so, so important when shopping, dressing and designing a hair concept. Are you Madonna circa "Hung Up"? Mod, 60s, Twiggy? Reese Witherspoon as June Carter Cash? BTW – Reese's hair should have won the Oscar for best performance in that movie.
Here are some of my past favorite looks:
Brigitte Bardot – My most recent obsession and a look Laguna Beach's LC frequently adopts. More to come on how to achieve hair that high that looks super with a headband.
Kate Hudson
Jennifer North from Valley of the Dolls
Sienna Miller (I enjoy her usage of leather and her hair lately is looking fab).
Claudia Schiffer's "I don't give a scheisse" hot big hair/liquid eyeliner duo? Which, bt dubs, she definitely adopted from The Bardot.
Figure yours out and shop accordingly.