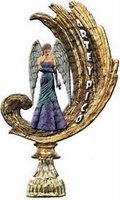 The fab Melissa picked BBJ to win the Arte Y Pico award! Thanks, Melissa! BTW, I just finished the second book in her series, Violet by Design and LOVED it. This one takes place mostly in Brazil. Can you even? There's even a fictional Gisele-type in the book whom Violet gets to work with. And a cute male Brazilian designer. Do check it out.
Here are the rules of the Arte Y Pico Award:
1. Pick 5 blogs that deserve the award for creativity, design, interesting material, and also contribute to the blogging community, no matter what language.