Are you ready for the final product of Hairadise Week? Wait no more, dolls. Redken Body-Full Carbo Bodifier ($16) delivers the goods.
I used it last night and was delighted to find that with a round brush, some serum and a blow-dryer, it produced Valley of the Dolls hair. Only an HG product can do that.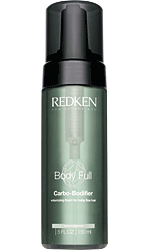 It's a liquid that becomes a foam to boost hair with a dose of thickening carbs. Sounds scary for your girlish figure… but PHENOM for your coif. It's formulated with Redken's exclusive Interbond Conditioning System and Anti-Gravity Complex for lasting volume, strength and weight-free conditioning.