This weekend I spent far too much money at American Apparel. Their stuff is SO useful, that it's hard to feel guilty (despite my inherent Jewish-ness). I know I'll live in every single thing I bought. Check it:
Sleeveless Tri-Blend Pleated Pocket Dress ($36)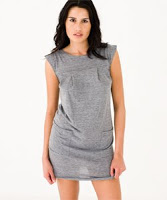 I'm going to pack this on every weekend getaway I take this summer. It's lightweight, totes flattering, and comes in my fave color, grey. I like that it's classified as a dress, but it's so casual in its gym class heathered grey coloring that it can't be taken too seriously.