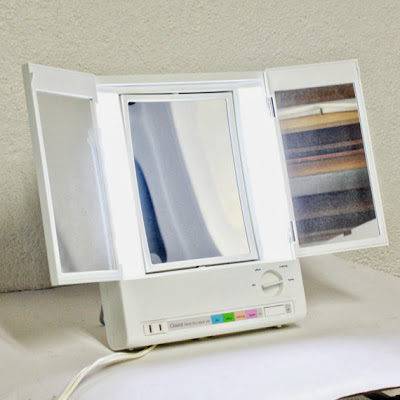 Recently, my San Francisco-based friend Michele, with whom I went to high school, came over post sushi dinner to check out my apartment. She instantly recognized my Clairol True-To-Light makeup mirror from the '70s I had in high school.
Except it's not the same one. My original boasted a three-way fold-over mirror situation and was inherited from my mother. People used to come over to my house when I was a teen and shift the lighting settings from home to outside to office. My current version does not boast the extra three-way business, but is the exact same model otherwise. I'd picked up my replacement at Mongomeryville, Pennsylvania thrift store Impact years after having to retire my original after the light bulbs burned out. It remains the ONLY makeup mirror I'll ever use. Clairol, I implore you to make new versions of these. I just ordered a new three-way one on eBay to keep as insurance for when my current one burns out.
Score a Clairol True-To-Light makeup mirror of your own on Etsy.
What's your makeup mirror pick?