Celebrity makeup artist for Laura Mercier Pati Dubroff worked with the gorgeous Priyanka Chopra for the Oscars tongiht. Pati noted, "Priyanka wore a sleek Ralph and Russo dress which was silver with white and pearl pink beads in a geometric pattern. The dress has amazing graphics of pale tones." Here, Pati shares a detailed breakdown for how to recreate Priyanka's look.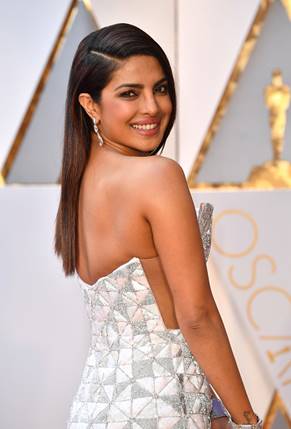 SKINCARE PREP:
·        Pati began by prepping Priyanka's skin with RéVive Defensif Renewal Serum ($235).
·        Then, she used RéVive Moisturizing Renewal Eye Cream ($150) around her eyes.
·        She applied RéVive Intensité Moisturizing Lip Balm ($60) to hydrate and nourish her lips.
FLAWLESS COMPLEXION:
·        Before applying foundation, she applied RéVive Le Tint Moisturizing Veil, Shade 3 ($105) all over her skin.
·        Then, Pati applied Laura Mercier Candleglow Soft Luminous Foundation in Praline ($48) with a sponge, only where needed, to achieve a glowing complexion.
·        Next, she added extra brightness to her eye area using Laura Mercier Candleglow Concealer and Highlighter, Shade 3 ($32).
·        She applied a rose cream blush from Kevyn Aucoin onto her cheeks, topped with NEW Laura Mercier Lightstruck Prismatic Glow Palette ($52) in Aurora and Reflect.
EYES:
·        Pati applied Laura Mercier Inner Eye Definer in Stormy Grey ($25) to Priyanka's inner and upper waterlines. She smudged the bottom lash line only, creating a deep and smoldering effect, while keeping the upper eye totally clean.
·        Next, she brushed Metallik Rust from Laura Mercier Editorial Eye Palette Intense Clays ($48)all over her eyelids. After that, she mixed in a touch of pink glitter to the center of her eyelid.
·        After that, she applied Beam from the NEW Laura Mercier Lightstruck Prismatic Glow Palette($52), mixing with a clear gloss to create a shiny and shimmery look.
·        Completing her eye look, she applied mascara – light on the top lashes and heavier with a bottom, curling them with a Troy Surratt eyelash curler.
LIPS:
·        Pati wanted Priyanka's lips to have a softness to them, so she applied a mix of two nude hues:Laura Mercier Velour Lovers Lip Colour in Sensual ($28) topped with Laura Mercier Lip Parfait Creamy Colourbalm in Amaretto Swirl ($26).