As everyone knows, it takes a beauty village to prep the gorgeous Jennifer Lopez for her Grammys gorgeous moment, and this time, Mary Phillips did the makeup honors while Lorenzo Martin tended to her famed mane. Here, the beauty breakdown.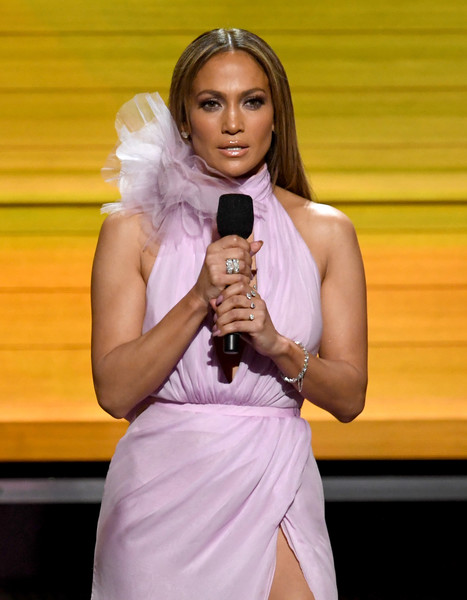 MAKEUP:
To prep Jennifer's Skin, Mary started with Revitalift Volume Filler Concentrated Serum ($24.99) and applied all over.
Next, to create a golden complexion Mary applied the Infallible Total Cover Foundation ($12.99) by mixing shades Natural Beige, Buff Beige, and Sun Beige using the Infallible Blend Artist Foundation Blender ($7.99).
She then used the Infallible Total Cover Concealing & Contour Kit ($16.99) for contour, utilizing the darker shades to contour and lighter shades to help conceal and brighten the skin.
Next, Mary used the Giorgio Armani Sun Fabric Sheer Bronzer paired with theInfallible Paints Blush Kit ($16.99), which she lightly applied to the apples of Jennifer's cheeks.
For the eyes, Mary began with the nude matte shades in Colour Riche La Palette Nude ($19.99) to use as her base. She then mixed Infallible 24HR Eyeshadow in Burstinto Bloom, Always Pearly Pink, and Endless Pearl ($7.99) Burst into Bloom was carefully placed very lightly at the crease, and both Pearl Shades were then used to highlight under the brow bone, on the lower lid, and on the inner and outer corners of the eye.
Next, Mary lined the eyes with Infallible Sculpt Liner ($8.99) where she dotted it in-between her lashes to make them look fuller and thicker, in a false slash sort of way. This secret draws attention to her eyes without being over powering or dramatic.
For lashes, Mary generously applied Voluminous Original Mascara in Black ($7.29) to give the lashes a gorgeous, sultry lifted look.
To create dimension in the brows, she used Brow Stylist Definer in Blonde and Brunette ($8.99) to create a "brow contour."
Mary lined Jennifer's lips with Giorgio Armani Beauty Smooth Silk Lip Pencil and then applied Colour Riche Collection Exclusive Lipcolour in Jennifer's Nude ($8.99) with a coat of Infallible Pro-Last Lipcolor in Neverending Nutmeg ($12.99) to give them the ultimate shine.
HAIR:
Lorenzo recommends washing hair with Hair Expert Extraordinary Clay Shampoo($4.99) and Conditioner ($4.99).
On Jennifer's damp hair, he sprayed Advanced Hairstyle Sleek It Iron Straight Heat Spray ($4.99) to protect the hair from heat and prevent frizz before blow drying.
He then blew out her hair using only his fingers. When he finished, he parted the hair down the middle and separated into four sections. He then created a sleek straight style using a flat iron.
To ensure shine and an ultra-sleek look, Lorenzo then applied Hair Expert Nutri-Gloss High Shine Glossing Mist ($6.99) all over and carefully placed her hair back off of her shoulders.
To finish, Lorenzo sprayed Elnett Satin Hairspray ($14.99) and used his hands to smooth all flyaways.