New for Summer 2k16: Elizabeth Arden's Bring On The Bold Collection! Three items stand out in this collection: the Bold Liquid Lipstick, the Bold Defining 24HR Liquid Eye Liner, and the Beautiful Color Bold Illuminating Liquid Highlighter.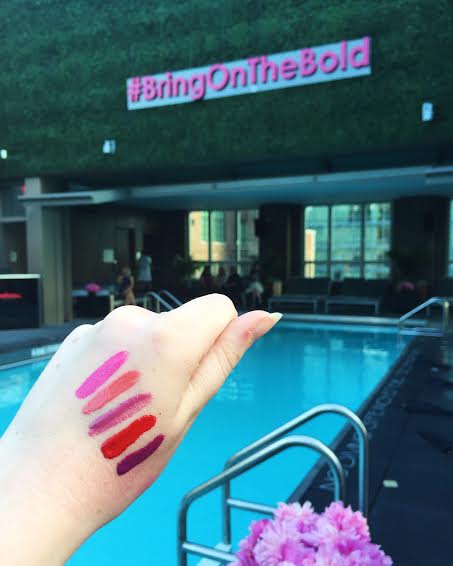 For all three, you simply need a small swipe of product to yield impressive color payoff that will last you throughout the day. Oh, and they're waterproof, so there's nothing keeping you from looking fabulous on beach day.
The Liquid Lipstick comes in bold, but wearable colors. To apply it, just push up the black bar on the handle of the lipstick once, and the product will appear on the applicator. The applicator is designed to match the shape of your lip: You'll get perfect coverage without having to line your lips and then fill in the rest. It makes all those Instagram videos where girls flawlessly apply gloss and perfectly cover every square inch of their lips actually seem easy. I especially love the red shades.
Liner lovers like myself will fall for the 24HR Liquid Eye Liner. The application brush is ultra thin and perfect for creating cat-eye looks. It comes in your standard black/brown colors, in addition to hunter green and electric blue hues.  And if you're not ready to be that wild just yet, I like to first add my black eyeliner and then go over it with a colored one: you get a subtle tint of color that switches things up without being too cray! (But, I fully encourage being cray as well.)
Last, Liquid Highlighter: No brush is necessary for this one: just dab your fingertip into the product and apply to wherever you want to bring a little extra glow—cheekbones, cupid's bow, whatever floats your boat. This highlighter gives you that beachy glow we all want in the summertime, and is small enough to take with you when you travel! A++.
—Devon Kelliher
Follow Devon in Instagram.