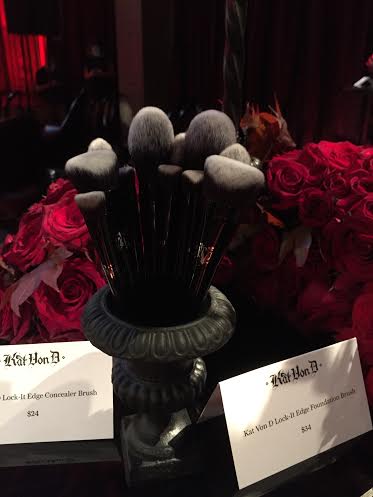 Kat Von D, one of the coolest people in the beauty industry (IMHO), is launching her "Lock it Revolution" line, which includes a ton of new foundation shades, concealer creme, setting powder, and a whole bunch of brushes.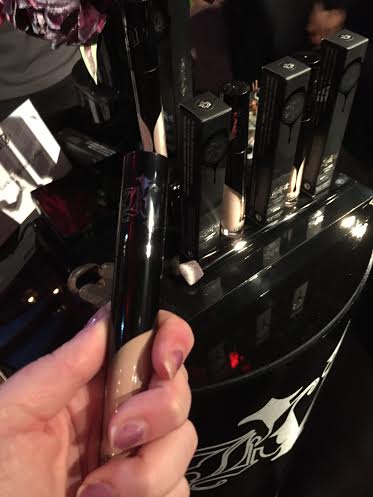 The Kat Von D Lock-it Foundation will last the whole day without streaking or getting shiny, provides you with full coverage, and comes with an attractive price tag. (By this I mean it's pretty cheap compared to most other foundations on the market.) There are 13 new shades launching this fall, so you can be sure that you'll find your perfect match—we all know there's nothing worse than foundation too light or too dark for your skin. Kat says that all you need is one little pump to fix any discoloration or stop shine, and I would take this advice very literally. The first time I applied the foundation, I gave myself a healthy 2-3 pumps and looked a bit like a ghost. But that's just another reason this foundation is so great: you won't find yourself going through bottles within months. One bottle of this baby will last you a while.
The Kat Von D Concealer Creme is another amazing addition to their fall collection. If you're into contouring (or you know, nontouring), then you're really going to love this product. It comes in a tube with the same applicator that most lip glosses come in, which makes it really easy to apply. This product comes in 21 different shades, so full coverage concealing and contouring is possible for people of all skin types.
KVD Beauty is also coming out with a bunch of brushes for you to play with. I had never used a brush for my foundation before (that might be a major faux pas for someone who's obsessed with makeup, but I've sworn an allegiance to my Beauty Blender…
), so I was particularly excited to use these. Like I said, the first time I applied the KVD foundation I put waaay too much on, so the foundation brush alone wasn't enough to blend it all in, and I had to go back to my beloved BeautyBlender to make me look like a normal human again. BUT, once I used the right amount, I loved using the brush. This brush is designed specifically for applying the Lock-It foundation and is ideal for overall foundation coverage or for contouring large areas of the face. The brand also suggests using the long tapered handle to master your winged eyeliner look, so for those of us who are winged-eyeliner-challenged, this tool is doubly convenient.
Kat Von D Beauty's fall line will be available in Sephora stores and on Katvondbeauty.com starting October 2016, so mark your calendars.
—Devon Kelliher
Follow Devon on Instagram.