"I'm a genie in a bottle baby…" is all I can think of when I spy this gold teardrop shaped mascara tube.  Physician's Formula is playful with their packaging and this is the perfect example; with Argan Oil aka "liquid gold" as its hero ingredient this tube speaks to Moroccan luxury.  It also says you won't need three wishes to get good lashes.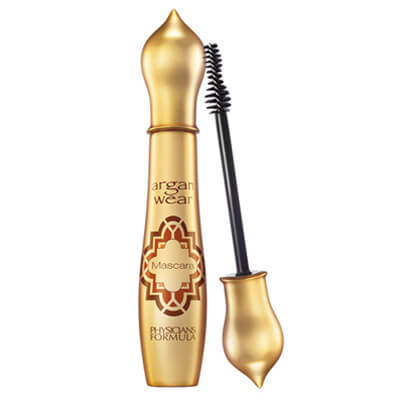 Physicians Formula Argan Wear Mascara
's brush is a unique bowling pin shape with stiff spiral bristles.  When I dive in, I'm hit with the essential oil scented formula.  I can't tell if I love it or hate it but I move on.  One coat is super rich and my lashes are multiplied by two.  I concentrated the application at the roots, combing up and out through the tips.  Knowing that the luxurious formula would get cakey at the tips, I kept coat two to just the roots.  My lashes looked fake, legitimately like I had on false lashes.  The look had softened a little by midday so I touched-up just at the roots.
I definitely needed eye makeup remover to remove all traces at the end of the night.  But I love love loved the effect (maybe except for the scent?) so I'll tell you to buy this baby!
—Ashleigh Ciucci