I've been obsessing over makeup brand Willa's Face the Day SPF 30 tinted moisturizer for a while, and I recently just experienced that tragic moment when your favorite beauty product finally runs out. So, since the holidays were fast approaching, I dropped some hints to "Santa" that I needed a replacement. And I guess Santa was feeling extra generous this year, because he #blessed me with an entire holiday gift set from Willa.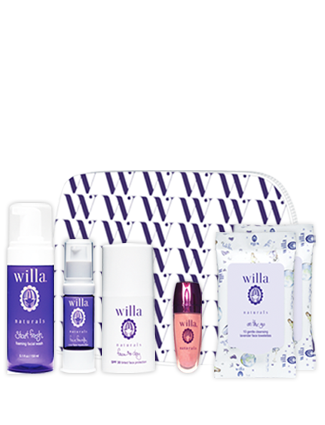 This isn't a very well known brand, and I have never stumbled across any of their stuff in an actual makeup store. But that really shouldn't deter you from shopping here, since their skin products are an amazing switch to your regular skincare routine. In this set you can find:
Start Fresh Foaming Face Wash: I love that this face wash foams, since it makes your skin feel nice and clean after you use it, and it's very easy to make sure you've washed all of it off, unlike with some other thick, creamy face washes. I use this before going to bed at night (despite the "start fresh" title), and it does a pretty good job of removing most of my eye makeup!
Face Friendly Clear Moisturizer: This is a good product to use right after you've washed your face, and I'm trying to get myself in the habit of applying it day and night. For some reason, other clear moisturizers I've used have left my skin feeling kind of sticky, but this one goes on just like a cream. It's probably going to be my skin's life saver during these harsh winter months. (Flaky ain't cute.)
Face the Day SPF 30 Tinted Moisturizer: Alas, still my favorite product in this entire set. This moisturizer is AMAZING, and I find myself having to force myself to not put too much on, because it goes on so smooth and silky. It's not technically a foundation, but I find the tint is enough to cover up any blemishes, and it doesn't leave my face with that thick, caked-on foundation feel. Love.
Skinny Mini in Clara: The set also comes with a small lip gloss in a light pink/blush color. Its sheer color is perfect for a casual day out, and it leaves my lips feeling smooth!
On the Go Lavender Towelettes: Perfect to use at the end of the day to remove any last bits of eye makeup. Even when I'm not wearing any makeup, they make my skin feel nice and fresh before bedtime.
All of these products are amazing on their own, but you do end up saving quite a pretty penny if you buy the gift set. Oh and added bonus: it comes with the cute makeup bag you can see in the picture, and it's the perfect size to stick all your toiletries in while traveling. Never too late to treat yo'self….
—Devon Kelliher