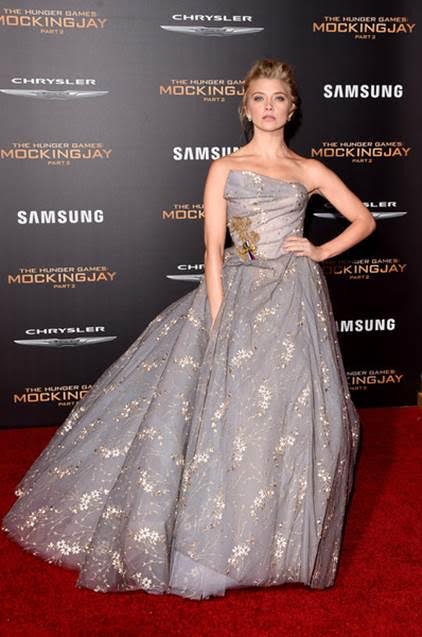 Celebrity makeup artist Matthew VanLeeuwen created Natalie Dormer's look for the premiere of Mockingjay Part 2 on Monday night. Here, the step by step to this simple, but stunning cosmetics effect. 
"I started by prepping the skin by dabbing primer onto the face following with a silky foundation and beige concealer.
The eyes were shaded using the Votre Vu Palette Play in Violette. I was able to coordinate the shadow with the tone of the dress, which is rose gold and blue. I started with the lightest shade, Chiffon, all over like a primer on the eye. Following, I swept the pink tone, Raw Silk, onto the lid and up to the crease. I then took the plum shade, Moiré and deepened the outer corner of the crease to create more dimension. I lined the lower and upper lash line with Votre Vu Le Joli Crayon in Aubergine, the color was perfect because I didn't want the harshness of  black and liked the way the aubergine played against the color of the dress. The eyes were completed with a Lancome mascara in black which I applied a two layer coat.  It is a classic natural dramatic eye.
On the cheeks, I applied NARS blush in Deep, which is a moldy pink color that also harmonized the makeup and the dress color.
The last touch was the lips. I outlined and shaded the lips with with Votre Vu Drawmatic Lip Liner in Naked. I shaped down the center of the upper lips and completed the shading with the Votre Vu French Kiss in LouLou. I then went back to the center of the lips with the liner to perfect the shape."
Are we seeing this movie opening night or what?